Despite tremendous gains in enrollment numbers of young people of both primary and secondary school age over the past two decades, there are still approximately 58 million primary school aged children out of school, and 69 million young adolescents of lower secondary school age not enrolled in primary or secondary school globally. Connect To Learn is working to get more young people enrolled in school through these two key initiatives:
Community Sensitization
Barriers keeping young people from enrolling in school range widely, and include long walks to and from school, responsibilities at home to do household chores and care for relatives, shortage of power for light to study after school hours, and a perceived lack of benefits of education among families that stem from shortages of well-trained teachers and lack of quality learning resources in the schools their children would attend.
To address these perceptions held by many community members in the places where Connect To Learn works, Community Education Workers (CEWs) have been trained and deployed in communities to sensitize parents and community members to the importance of enrolling children in school and creating space in their lives for adequate study. These CEWs typically have at least a secondary level of education, are from the communities where they work. CEWs help address challenges of unemployment and teacher shortages in remote communities, particularly among youth and women, and help to raise the status of women in the communities. CEWs help strengthen the education sector in several ways. They help tutor students, particularly in schools where there are an inadequate number of teachers, and collect data on learning outcomes to help Connect To Learn design programs to better meet the pedagogical skill gaps of teachers and the learning needs of students. CEWs also help equip parents with strategies to support the learning of their children.
Scholarships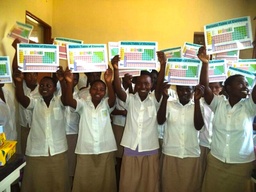 As rates of primary completion have increased, transition to secondary school remains a large challenge, especially for girls. For example, in Ghana, while girls' net enrollment in primary school has reached 84.8%, it drops to just 44.4% at the secondary level. To address this challenge, Connect To Learn provides access to secondary education with scholarships to local schools for girls, which cover school-related expenses, living expenses and well-being expenses. We're placing a special emphasis on girls and young women because they face extraordinary challenges to staying in school beyond very basic levels, including early marriage, unwanted pregnancy, health and safety concerns, and scarcity of strong female role models outside of the traditional roles of women in small rural villages. Connect To Learn programming is designed with an eye to helping prepare girls for personal empowerment and future economic opportunity.