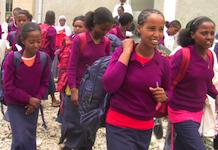 Education is a fundamental universal human right, a path to self-determination, and essential for the sustainable development of every nation. Connect To Learn is a partnership of the Earth Institute at Columbia University, Ericsson and Millennium Promise whose mission is to address the lack of universal access to quality education, with an emphasis on the marginalized (especially girls), in resource poor settings globally. We aim to achieve this mission by enabling access to quality instructional and learning resources through innovative teaching practices and technology tools in schools, and by ensuring each child, girls and boys alike, get access to both primary and secondary schooling as well are equipped with 21st century skills to help increase their professional opportunities and improve their quality of life.
Connect To Learn works to achieve this mission through the following key strategies:
Connect To Learn's data-driven approach continues to evolve based on ongoing research conducted by Connect To Learn's team at the Earth Institute, and is implemented in collaboration with a growing portfolio of partners from the public, private and academic sectors.