My Journey to Midwifery School
Posted Fri Oct 09, 2015 by Ramatu Seidu, Connect To Learn graduate, 2013
I am Ramatu Seidu, a girl of 22 years of age from Manso Watreso, one of the Millennium Villages Project (MVP) Bonsaaso Cluster communities in the Amansie West District of Ashanti Region of Ghana.
Coming from a very poor home, my parents could not have been able to cater for me at the Senior High School (SHS) level even though I was able to pass the Basic Education Certificate Examination (BECE) at the Junior High School (JHS), in the year 2010, which is the basis of selection to a Secondary Education. Thanks be to God almighty and CTL, I had the opportunity to benefit from the scholarship scheme which has brought me to this far.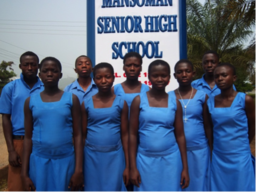 CTL enrolled me into Mansoman SHS in the year 2010 immediately after my success in the BECE.
Upon guidance, motivation, and encouragement from the CTL team both in Bonsaaso and NY, I developed interest in Nursing as a profession. This kept ringing in my mind all the time and served as a spring board for me in all my dealings in the school as a student. In order for me to achieve the objective of becoming a professional Nurse, I decided to study hard so as to make my dream come to pass and also not to waist the resources and time spent on me.
I completed Mansoman Senior High School in May 2013 as one of the CTL first batch of scholarship beneficiaries in Bonsaaso. I worked with the Millennium Villages Project from September, 2013 to July, 2014 as a Community Health Worker (CHW). During my service as a Community Health Worker, I had the chance of feeling like a Nurse because of experience through the training I had from home visits and health education to the pregnant women. I was doing household visits to educate mothers and the community as a whole on prevention of diseases, family planning, malnutrition and the importance of National Health Insurance Scheme.
My experience as a CHW deepened my focus and shifted from being an ordinary Nurse to becoming a Midwife. Fortunately for me I had admission to enter into a Midwifery Training Institution in the Northern Region which I have completed my first year, level 100 and now at level 200.
My interest in Midwifery came in as a result of meeting malnourished children in their various homes during my home visits as a CHW. I felt like always making myself available
to educate parents specifically mothers to feed their children well to avoid the dangers of malnutrition. It is my wish to go to that far to be able to help mothers especially those from the small towns and villages.
Again, it is my wish to serve as a role model in my small community, the entire MVP Cluster communities, my District and the nation as a whole to encourage people especially student girls to let them know that it does not matter where one comes from but what s/he can do. Even though from a village disadvantaged with basic social amenities with poor parental background, with seriousness and hard work success is assured.
I am very grateful to CTL for all your concentration and mercy on me. Without CTL, I may have been a school dropout. May the good Lord richly bless and reward you abundantly so as to extend your kindness and generosity to others who are in the same situation as mine. I am indeed grateful to you. MAY GOD BLESS YOU ALL and replenish accordingly, for all what you have spent me till this time even at the tertiary level. Once again, God richly bless you all. BIG THANK YOU.


No Comments